Our introduction to Zoey (top) was when one volunteer met another volunteer in a parking lot to trade off cats that had been transported from a shelter. "Do you think this kitten has ringworm?" said one to the other. "Because if she does, nobody will take her and she will die." A quick glance revealed the tiny (Siamese? It was impossible to tell) kitten was indeed recovering from a very bad bout with the fungal infection but even from the start her personality was SO HUGE that we had no doubt she would fully recover and thrive. We knew she had been taken away from her mother at 4 weeks of age and sold to someone and by 6 weeks was thrown into a local shelter, unwanted, sick, and very unlikely to survive.
It was pure chance (and the kindness of our volunteers) she wound up with us. We treated her infection and the "ugly duckling" kitten with the incredible personality started to thrive, just as we knew she would.  Meanwhile, Gracie also found herself in a shelter. Thin, sickly and extremely stressed in a cage, rescue was her last hope. She would not eat, drink or relate to people in any calm way being kept in anything but a room of her own. Fortunately just the right foster situation opened up for her and she was able to start the healing. And then the Heffernans contacted us….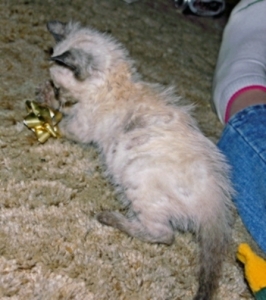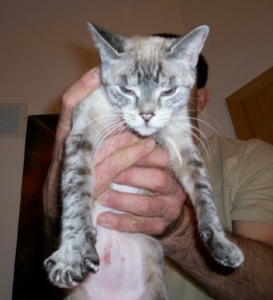 See top images for how Zoey & Gracie looks today.
Here is a note from Zoey and Gracie's mom:
After losing both my 16 and 181/2 year old Siamese girls within a year, our home was so EMPTY! Somehow I found the SPCR site on the web and adopted Gracie, a lynxpoint and torti Siamese with pale blue eyes. She had been picked up as a stray and was found in a shelter. She had an infected canine tooth, had it removed, and was in so much pain she stayed under the bed in her foster Mom Karen's home for 3 weeks. She was nursed back to health by Karen and her husband, which included IV feedings twice a day. In the meantime, Kirsten was fostering a neglected Siamese kitten whom she had nicknamed "Miss Insanity". She said we may also be able to adopt her. "Zoey" had been taken from her mother at 4 weeks old, was very neglected and had terrible  infections on her skin. Kirsten nursed her back to health AND enjoyed her wild antics! SHE was VERY tempted to keep her herself. But she decided we would give her a good home and she became ours!! After their unhappy beginnings, we have two very beautiful, happy kitties. Gracie was very awkward and uncomfortable playing. Her first and favorite game is retrieving! She brings her feather toy and mews 'til it's put on the top of her cat tree, and the game repeats. She loves "hiding in boxes games" with Zoey and even though she isn't a cuddler, she LOVES people. Zoey is, well, always busy!  EVERYTHING is a toy!! My husband finds fruit (cherries, tomatoes, grapes, etc.) in his shoes. Removing the drawer under the stove revealed 7 chapsticks and other assorted goodies! (so THAT'S what she was doing in my purse!!) She is always an impulsive, outrageous kitty! We really never know what to expect and we love it! Thanks to Kirsten and foster mom, Karen! Our home is happier (and pretty crazy) with our two cool kitties!! ~The Heffernans