ADOPTION FEES
Purebred Adults (1-6 years): $150-$400
Purebred Kittens (under 1 year): $175-$450
Mature (7+ years) and Special Needs: $50-$200
Mixed breed kittens (under 1 year): $50-$150
Mixed breed adults (1-7 years): $25-$175
Adoption fee includes spay/neuter, feline leukemia/FIV testing, distemper vaccination, microchipping, deworming, flea-free, grooming, temperament testing and often full dental cleanings. Older cats may have had blood panels to assure health.
APPLY NOW
2017 ADOPTIONS: 180 (as of today)
2016 ADOPTIONS: 664
2015 ADOPTIONS: 585
If you see a cat you are interested in adopting, please submit an application.
This is a very active rescue and listings can change DAILY. If the cat you like is no longer listed below, he/she may already has an application pending or has been adopted. View our FAQs to learn more about our application process.
pureBredAdmin
2017-04-23T21:00:04+00:00
Blue Point Balinese | 9 years | Female | Has Claws | $100 | Kenosha, WI
Available Shortly
These are cats that will be available for adoption shortly and may or may not already be in foster care. You are welcome to inquire or put in an application on them. Be sure to check our Facebook page where we preview many cats as well!
Some of our cats in rescue need extra support and you can take a sneak peak at cats who may not be available shortly but who may be adoptable in the future by checking out our Sponsor My Rescue cats.
A note regarding our UnKommon Kitty:
We will sometime list domestic cats that have come into our program because they are part of a pair (one of which was a purebred) or some other reason having to do with our admission process. Please do not ask us to take your domestic cats because we cannot. We have very limited space even for purebred cats and have to keep those spaces open for them.
Almost HOME!!! These cats are in the final process of adoption. We are no longer taking applications on these cats.
pureBredAdmin
2017-04-17T19:41:19+00:00
Seal Point Himalayan | 8 years | Male | Front Declawed | $125 | Kenosha, WI
pureBredAdmin
2017-04-14T10:23:01+00:00
Red DMH | 14 years | Male | Has Claws | Special Needs | Gurnee, IL
Sponsor: Tamara Sender, Hannah Morrell
pureBredAdmin
2017-04-11T22:15:18+00:00
Blue Domestic Shorthair | 4 months | $100 | Chicago, IL
pureBredAdmin
2017-04-18T07:32:59+00:00
Seal Snowshoe Siamese | 10 months | Male | Has Claws | Special Needs | $80 | Mazomanie, IL
When you adopt a shelter pet, you save two lives. The one you adopt, and the one who takes its place.
Home sweet home! These lucky kitties have recently found their forever home.
pureBredAdmin
2017-04-23T11:36:08+00:00
pureBredAdmin
2017-04-14T10:21:26+00:00
pureBredAdmin
2017-04-17T10:42:14+00:00
White Persian | Age: 2-3 years | Female | Has Claws | $250 | Kenosha, WI
pureBredAdmin
2017-04-07T17:19:34+00:00
pureBredAdmin
2017-04-16T14:25:48+00:00
Lindsey Phenis
2017-04-09T18:49:31+00:00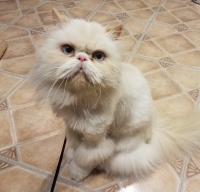 pureBredAdmin
2017-04-15T18:36:26+00:00
pureBredAdmin
2017-04-10T21:55:10+00:00
pureBredAdmin
2017-04-17T20:21:55+00:00